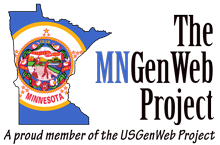 Surrounding Counties
ALL MN Counties
Also please subscribe to our new mailing list:


---

Lyon County Links
Locations in Lyon County
Lyon County Cities: Balaton, Cottonwood, Florence, Garvin, Ghent, Lynd, Marshall, Minneota, Russell, Taunton, Tracy
Lyon County Townships: Amiret, Clifton, Coon Creek, Custer, Eidsvold, Fairview, Grandview, Island Lake, Lake Marshall, Lynd, Lyons, Lucas, Monroe, Nordland, Rock Lake, Shelburne, Sodus, Stanley, Vallers, Westerheim
The First One Hundred Years Of St. Pauls Lutheran Church. An early Icelandic Congregation
Gen-CONNECT Boards has been discontinued you may view MNArchives for submissions.
Search Roots-L Database and Files:
Minnesota Surnames in the Roots Surname List
---
Search All Surname Helper Sites
---
The MNGenWeb Project
In March and April, 1996, a group of genealogists organized the Kentucky Comprehensive Genealogy Database. The idea was to provide a single entry point for all counties in Kentucky, where collected databases would be stored. In addition, the databases would be indexed and cross-linked, so that even if an individual were found in more than one county, they could be located in the index. This lead to the USGenWeb Project of which Lyon County, Minnesota is a part.
---
You are Genealogist number:
interested in Lyon County since the counter was installed on 12/26/2002.

This site is temporarily maintained by Shirley Cullum
and was last updated September 29, 2015.
---
Copyright 1998-2015 by Lyon County Coordinators for the MNGenWeb Project